Customer Reviews
07/29/2019
James S.
United States
Love this piece!
This piece is incredible. Pristine craftsmanship and looks exactly as it does in the photos. Placed it in a picture frame and it looks beautiful in my apartment. Would highly recommend!
07/30/2019
God's fingerprints
A comfort to a dear friend
This piece came at an incredible time. My friends adult son passed away in a terrible car crash. I offered this up to her as a gift in remembrance of him. She's shared how every time she sees a lion or that scripture she thinks of him and if gives her comfort and strength! Thanks for playing a role in such a big way!!!
05/16/2019
God's fingerprints
Oh I'm so sorry for you and your friend's loss, Heather. We are very pleased how God is using these prints as a reminder of hope and comfort for many. Thank you so much for sharing. Blessings!
09/07/2018
Kaya M.
United States
Beautiful scripture and art mixed together
I bought this as a gift for a friend who loves lions and the specific scripture. It turned out to be so wonderful and I was blown away when I opened it up and saw it in person. Beautiful artistry/print!
08/31/2018
Carolyn S.
Canada
Absolutely beautiful!
This print is a beautiful work of art, and a great reminder of God's truth. It is one of our favourite verses that we wanted to instil in our young boys' mind, so we purchased to hang in their shared bathroom. The quality is exceptional. We are overjoyed to have come across Jason and Laura's work!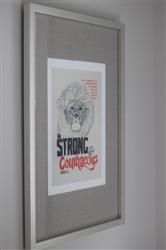 09/12/2018
God's fingerprints
Thanks Carolyn! We hope it helps plant those seeds of truth in the hearts of your boys. And by the way, the framing job is beautiful! :)
08/23/2018
amber f.
United States
Beautiful prints
Love this picture. Really beautiful, great detail and quality. It is in my office at work and I love looking at it every day.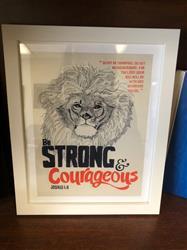 09/12/2018
God's fingerprints
Thanks Amber for your review! Beautiful framing choice. May God's Word continue to bless and strengthen you, while at work and through your entire day. Blessings~