Customer Reviews
NB
11/19/2019
Neroli B.
Australia
Fingerprint in rose gold
I love the whole concept of putting a verse from every book of the bible into a fingerprint! It's brilliant and unique just as our fingerprints are unique to each of us. Thank you for expressing the Father's love for us so beautifully. The rose gold tops it off. On a practical level it arrived promptly and safe and sound across continents.
11/19/2019
God's fingerprints
Thank you so much for your honest feedback, Neroli! We are blessed by your support!
11/19/2019
Teresa G.
United States
Rose Gold Fingerprint
The experience buying this was top notch. I only gave it 4 stars because the rose gold, although it is beautiful, is very hard to see. I went to Hobby Lobby and we found a frame and beautiful rose gold mat. They bring out the image a little, but I suggest going with the black lettering. I bought one of those too and the image pops off the page. If the background for the rose gold image was darker (it's white) the image would stand out more and I would have given it 5 stars.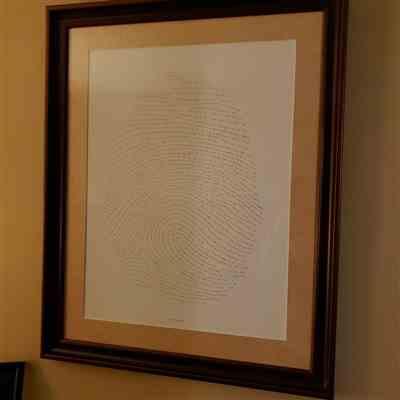 11/19/2019
God's fingerprints
Thank you for your honest feedback and suggestion! If by any chance you think you are not satisfied with the print, we'd be happy to send a replacement or offer you a refund. Kindly send us an email at support@godsfingerprints.co
11/19/2019
Kandace O.
United States
Rose Gold Gods Fingerprint
Exactly what I ordered, so beautiful! Couldn't be happier! The shipping was quick!
11/18/2019
Carolina O.
Canada
Lovvveee it... my first painting
Lovvveee it... my first painting for our home! Can't wait to get other paintings from your company ❤❤
11/16/2019
Johnmiah H.
Singapore
18x24 Illuminated Fingerprint - Rose Gold
Extremely beautiful poster