Customer Reviews
11/14/2019
Amygrace
United States
Stunning
Amazing artwork! I ordered it for my niece's room. Fits wonderfully.
09/24/2019
Christy T.
United States
Beautiful
I've purchased several of God's Fingerprint art work and this one is just as beautiful. I pray the Lord continues to inspire and bless you.
08/14/2019
Richard D.
United States
Gorgeous & Uplifting Artwork
I'm so glad I purchased this piece! It's very great quality, wonderful artwork for any place in your home and it is so crisp and clean! I'm eager to purchase more work for gifts too!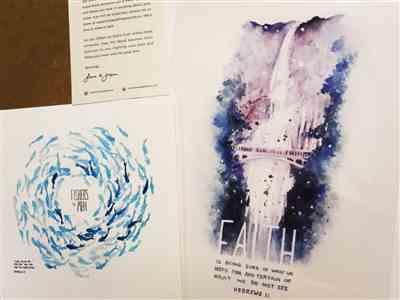 08/14/2019
God's fingerprints
We're so glad you like it, Richard. Thank you so much for your support!
03/25/2019
Karey A.
United States
Loved it!
I got it for a gift and was so thrilled with it. My niece got engaged by a waterfall and I gave this to her. Great work and keep it up.
03/26/2019
God's fingerprints
Wow, glad it could be such a meaningful gift. Thank you for sharing Karey. We appreciate your support :)
12/21/2018
Beth W.
Australia
Brilliant!
I bought 6 prints including this one for friends and family for Christmas and I couldn't be happier! It arrived a lot sooner than expected and the quality is amazing. Recommending to everyone :)